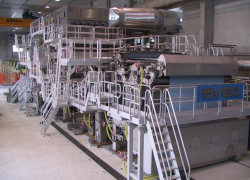 March 2017
OVERMADE has been chosen to rebuild the forming section of a "top performing" tissue plant for an Italian customer.
The rebuild includes the supply of a new DYNAFLO TWC headbox for a Crescent Former OVER CRC22. The OVERMADE equipment has been selected to meet the highest qualitative requirements in terms of paper characteristics and formation, fiber and energy saving.
The tissue machine will reach a maximum production capacity of 35,000 tons/year and the installation will be started up in the last quarter of 2017.
OVER-CR Formers are well known in the tissue market for their performances and the top quality of the paper produced as a result of the "Dynaflo concept" based on the application of an exclusive turbulence generator, developed in OVER's pilot plant, with which excellent fiber distribution is achieved.