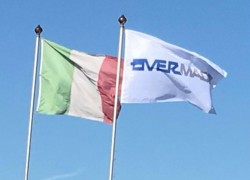 OVERMADE was founded at the end of 2015 by four former managers of OVER Meccanica, together with a group of Italian investors, to continue producing the machinery for manufacturing paper and tissue fabrics of a Verona's historical company, known throughout the world since the sixties.
Through a management buyout operation, successfully completed on the 1st December 2015, OVERMADE acquired the exclusive ownership of all the assets of OVER Meccanica, covering brands, know-how, references, designs, patents, securities, tools and equipment, as well as the right to use the original plants based in Verona. In order to continue an activity that achieved a great success thanks to hundreds of important installations implemented all over the world, OVERMADE is doing its best of the wealth of first-class knowledge and expertise inherited and rooted in a pioneering technological past.
Our People
Our team is composed of competent people, with a solid experience matured on a huge number of projects and with the attitude of looking for solutions whatever the challenge. Strongly oriented to the process of rationalization and resolution of problems in all issues related to paper production, our staff is constantly looking for ECO and LOGIC solutions to develop and implement. The effect of this approach is twofold: while they are committed to pursuing the key objective of the customer satisfaction, they realize their progress and their professional growth.

What We Do
We engineer, design and manufacture complete paper machines, complete tissue and winders machines. We supply also paper machine section rebuilds, machine components, original spare parts and a wide range of services.
Our Mission
We aim to achieve higher goals, in order to meet the requests of our customers in an always more competitive and demanding market, offering ECO and LOGIC tailor-made solutions and an efficient after-sale assistance.
Our Vision
Pursuing the customer satisfaction through technological innovation, environmental responsibility and a professional ethic distinguishes our VISION. The intention to carry on the undisputed know-how and experiences of one of Verona's historical engineering brands, to continue to invest in R&D and in the professional development of our human capital, are key factors to project ourselves positively in a future scenario as reference point in the market. To pursue a constant growth by suppling equipment and machinery with an always higher technological content.
Sustainability
An eco-sustainable approach of a company policy is a must for any innovative, responsible and forward-looking company in the sector. To improve the use of raw materials and resources through new technologies to install in our machineries allows our customers to achieve important results on both environmental and economical sides.
We appreciate the commitment of many of our customers who participate to "Paper Profile", or support the FAI – Fondo Ambiente Italiano – through their partecipation to the programm of company membership Corporate Golden Donor, to contribute to the reduction of the environmental impact of their activities.
Seminars
We are proudly engaged in the training of young students with the purpose to shape an ECO and LOGIC conscience with "ad hoc" lessons and seminars.
We bring concrete experiences of those who are daily committed to the realization of important installations for the paper production.
For more information about us, go through our HISTORY.