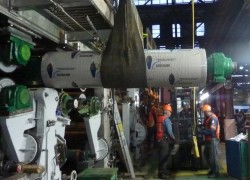 April 2016
At the end of March 2016 OVERMADE completed the rebuild of the press section at Manufacturas Sonoco, Santa Clara, Mexico.
It is a 4 nips press section installed in a high resistant heavy board machine capable to produce from 300 up to 500 gsm at 360 mpm speed. The rebuilt was completed in less than 15 days from paper to paper. Full capacity production was achieved immediately after the start up and well in advance of any optimistic planning.
According to the paper mill, the delivery was very competitive, fast and accommodating to the needs of the Santa Clara's team, professionally handled from quote, through fabrication and shipment, to start-up. A special praise was additionally addressed to our erectors for their competence and supervision ability.
Sonoco is a $5 billion global provider of consumer packaging, industrial products, protective solutions and display and packaging services. From the headquarters in Hartsville, South Carolina, and more than 330 operations in 34 countries, producing packaging for a variety of industries and many of the world's most recognized brands, serving customers in 85 nations. (www.sonoco.com)