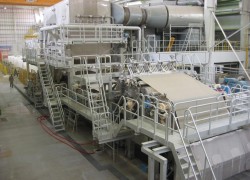 November 2016
OVERMADE has been selected as supplier for a new tissue line that will be installed in the premises of a Latin American tissue producer. With this investment the final customer will strength his strategic growth in the Latin American market with the production of high quality premium tissue. On top of that the new machine OVER CR C20 will permit to double the actual production capacity of the mill. Start-up is scheduled in the second half of 2017.
With this new installation OVERMADE strengthens his position as leader in the supply of tissue machines and celebrates a double anniversary for the Company: 50 years from the installation of OVER first two tissue machines (Pracando-Villa Basilica and Vignaletto), and the 1st birthday of OVERMADE's operation.
"A so deeply rooted technology and know-how – declared the buyer - connected with the innovative solutions supplied by OVERMADE led us to select OVERMADE: OVER tissue lines are universally appreciated for their flexibility, efficiency and for the outstanding quality of the paper produced on them, and OVERMADE attitude focused on our needs ultimately conquered us".
The new OVERMADE CR C20 is equipped with the DYNAFLO-C headbox, OVERFORMER-CR, single press configuration and 15 ft steel shell Yankee dryer. The tissue machine will have a width of 2.8 m and a design speed of 2,000 mpm. The new line will produce high-quality super-soft tissue and will be capable to run also with waste paper raw material.