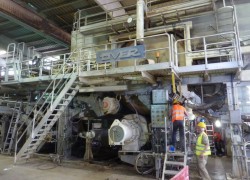 July 2016
At the end of June 2016 and ahead of project schedule, the rebuild of PM2 at SCA Lucca 1 was completed. The rebuild, entirely awarded to OVERMADE, featured interventions in the twin wire forming area, the replacement of the whole framing of presses and Yankee, while keeping hood and Yankee dia. 3600 mm in place.
After an accurate analysis onsite, the rebuild posed critical issues of both engineering and logistic nature, as well as on the side, not less important, of the safety. OVERMADE was selected by SCA to perform the job on a turn-key basis, which included the supply of engineering, materials, logistics and erection services as well as assistance to the start up of the line.
"Since the stage of project analising – comments Emilio Biagini, Operation Manager of SCA Lucca 1 mill – we realized that OVERMADE was the right partner. Their dedication and above all the accuracy of the information they were able to provide along the project were immediately appreciated. Timely deliveries, quality of material and the way they managed machine dismantling and erection, that we know to be crucial phases, confirmed the positive perception we had initially. We also would like to point out that the whole rebuild was carried out in full compliance with the safety policy pursued by SCA"

OVERMADE completed the rebuild returning the machine to production two days earlier than scheduled in a tight planning.

SCA is currently running six OVERMADE tissue machines: two 5600 mm trim width D22 type, one 3450 mm trim width C18L type, and three 2750mm trim width B15 and C18 type. Three of them are in Italy, two in England, one in the USA; there is a seventh machine, rebuilt in 2013, running in Belgium.
SCA is leading global hygiene and forest products company which was founded in 1929 and with its headquarters in Stockholm (Sweden). SCA develops and produces sustainable personal care, tissue and forest products. Sales are conducted in about 100 countries under many strong brands and regional brands. SCA in Italy has a legal head office in Altopascio (LU), a sales & marketing offices in Legnano (MI) and three production sites in Altopascio (LU), Porcari (LU) and Collodi (PT). At a national level SCA brand portfolio includes TENA, Tork, Tempo, Nuvenia, Libero e Demak'Up. The company also plays a relevant role as a supplier of tissue for private labels. In Personal Care, SCA manufactures and sells incontinence products, baby diapers and feminine care products: in this segment, the brand TENA represents the clear global market leader. SCA also produces and sells consumer tissue (toilet paper, handkerchiefs, facial tissues, kitchen rolls under brands such as Lotus, Tempo e Zewa) and Away From Home (AFH) tissue. In the AFH tissue segment, SCA offers complete hygiene solutions under the globally leading brand Tork.