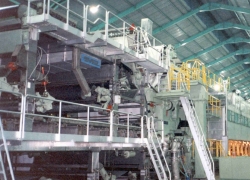 May 2018
APP opted for OVERMADE to complete a reconstruction program on the fluting and liner machine in EKAMAS FORTUNA MILL - East Java.
We have been commissioned to realize the press section and dryers rebuilding and supply new ones, to be installed in a paper machine with a wire width of 4350 mm and a production speed of 600 mpm.
Asia Pulp and Paper Group (APP), started in 1972 as Tjiwi Kimia, is a well-established company which runs operations across Indonesia and China, with an annual combined pulp, paper and packaging products and converting capacity of over 19 million tons.
Its wares are then marketed in more than 120 countries, to meet the growing global demand for tissue, packaging and paper and they find their way into the hands of consumers in various branded forms all over the world.