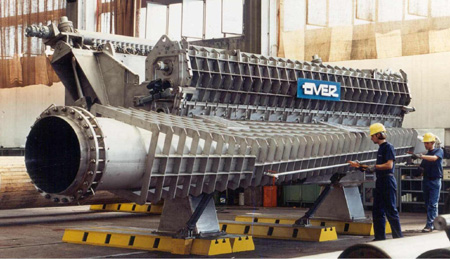 August 2018
OVERMADE receives a repeated order for a Dynaflo FL headbox from Pratt Industries for their VP 15 at PRATT PAPER mill in Shreveport (USA).
This second order comes after the extremely positive results achieved in one year operation with the first headbox delivered in 2017, selected for the excellent distribution of the fiber it has shown to grant, contributing to reach the highest market standards of CD basis weight profile and paper properties.
The target of this installation is – as it was of the first unit supplied in 2017 - to improve the web fiber distribution when the basis weights, ranging from 100 to 273 gsm, are produced with a furnish of up to 80% mixed waste paper and only 20% OCC. This will further increase the efficiency of the forming section of VP 15, which is recognised to rank first among the machines of the Group in terms of paper quality and line productivity.
With a pond width of 6200 mm and an operation output of approx. 500 tpd., the headbox is designed for the top layer of a machine producing up to 1200 tpd of high-quality testliner and fluting, at a speed of 1100 mpm.

The performances of the DYNAFLO-FL headbox are the result of the latest innovations applied to the "DYNAFLO CONCEPT", the exclusive turbulence generator developed in the OVER's pilot plant.
The CD basis weight profile is controlled by means of a dilution system. The headbox features an additional edge flow control system, capable of locally adjusting the flow from 60% to 160% of its nominal value, designed to optimize the fiber orientation all across the paper width. It is supplied with stiff lamellas in the slice area to maintain a high level of micro-turbulence up to the jet exit, thus improving paper formation at high speeds.
DYNAFLO-FL, the headbox for high speed Fourdrinier forming section, is available also in a multilayer layout, which enables the use of stocks of different characteristics or qualities to produce multilayer paper on a single forming section.